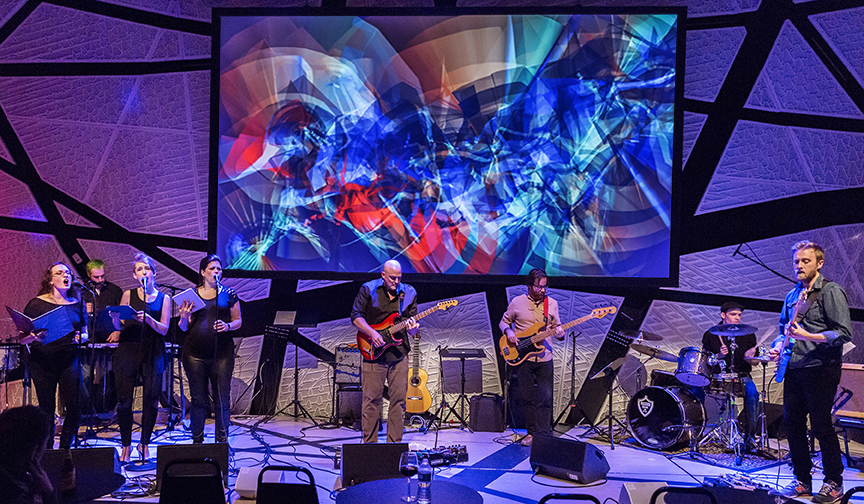 PRESS
"[The Knells'] lyrics ponder cosmic conditions and cycles — time, space, dissolution, regeneration — and they are sung by three women, often in cascading counterpoint that can invoke Renaissance polyphony or Minimalism. The songs aren't verse-chorus-verse; they sweep ahead, through passages of tolling solo electric guitar, of elegiac vocal melodies and harmonies, of note-bending quasi-Indian strings and guitar, of progressive-rock processionals. The classical training and female harmonies can make the Knells similar to Dirty Projectors, but this band looks toward Europe and tone poems rather than Africa and pop. Instead of hooks there are sustained dramatic arcs, meticulous and serpentine."
Best Albums of 2013, #6: "A song cycle of quasi-classical, quasi-psychedelic head music by a group led by Andrew McKenna Lee, a rising new-music guitarist and composer."
"Finally, an album that Gentle Giant and Sufjan Stevens fans can agree to love: The eponymous debut concept LP by the Knells... mixes its myriad impulses and resources in glorious manner, with three angelic voices floating in harmony over a string-adorned backbeat."
—Time Out New York
"What happens when you mix up a high-octane rock rhythm section with a string quartet and medieval-ish vocal polyphony? The answer is The Knells, a Brooklyn band that won't get much airplay with a new CD that refuses to fit into any station's format. I'm not sure how to label their music, but they call themselves a "post rock, neo-psychedelic chamber prog band." Their debut album is a must for those seeking untamed new musical hybrids."
"Punctuated by whip-cracking snare and emollient bass smoothing over fidgety time-signatures, the ten pieces resonate with the tintinnabulation of tremelo'd guitars and translucent three-part female harmonies whose scintillating, dissonant strands fuse into an intensely-detailed polyphony... Slippery yet sinewy, there's a lot to grasp in the complex and ornate layers that make up each piece... a starkly beautiful and wholly remarkable debut."
"The Knells' self-titled debut album must be one of the most original-sounding albums released in 2013. The hour-long recording captures the group... boldly collapsing whatever gaps are taken to exist between prog, rock, and classical genres."
"Although innovative and groundbreaking is a term that is overused and most of the time inaccurate, in the case of progressive rock band The Knells the groundbreaking description is totally precise. The Knells prove that they are true to the progressive rock spirit by exploring new realms, creating state of the art music... The Knells is truly one of the finest progressive rock releases of the year."
INTERVIEWS AND FEATURES
Interview: "15 Questions" with Andrew McKenna Lee on Tokafi, February 2014
Interview with Andrew McKenna Lee on Progressive Rock Central, January 2014
Essay: "The Knells — Progressive and Beyond" by John Hagelbarger, February 2014


PHOTOS
PRESS DOWNLOADS
Knells Press Kit 2016 (includes hi-res photos, bios, etc.)